Overview
Niall P. McCarthy, a Partner at Cotchett, Pitre & McCarthy, LLP, is a graduate of the University of California at Davis and Santa Clara University School of Law. He has practiced with the firm since 1992.
Niall has been named a Top 100 attorney in California many times by the Daily Journal and by Super Lawyers Magazine, as well as being repeatedly named to the Daily Journal's "Top Plaintiffs' Lawyers" list. Niall has received four California Lawyer Magazine Attorney of the Year (CLAY) Awards, most recently in 2023. Niall was also awarded the Trial Lawyer of the Year Award by the San Mateo County Trial Lawyers Association.
Niall has been elected to the American Board of Trial Advocates (ABOTA), the International Academy of Trial Lawyers, the International Society of Barristers, and the American College of Trial Lawyers. He served as President of the San Francisco ABOTA Chapter in 2022.
Niall has represented qui tam Relators in False Claims Act cases in state and federal courts. Niall handled the Hunter Laboratories Litigation in which he negotiated the then-largest False Claims recovery in California history, $301 million. In the mid 1990s, he was the lead attorney in a groundbreaking case brought under the California False Claims Act on behalf of the University of California San Francisco with respect to direct and overhead costs to the university. In 2015, he was the lead attorney for the whistleblower in a qui tam case resulting in a $75.5 million settlement with technology industry giant, VMware. In 2018, Niall resolved a qui tam action against British Petroleum for $117 million. Niall has extensive experience pursuing false claims cases arising out of fraud against the government. He coauthored the articles "Qui Tam Litigation, A Primer for the General Litigator," "Answering the Call: Attacking Healthcare Fraud with the False Claims Act," "Recent Developments in False Claims and Healthcare Litigation," and "False Claims Act Fundamentals." He has worked with the Department of Justice and Attorneys General offices throughout the United States on False Claims cases.
Niall has handled many consumer class actions. He has acted as Co-Lead National Class Counsel in actions against some of the largest financial companies in the country, which returned hundreds of millions of dollars to consumers. He is the author of "Home Equity Loss in California Through Predatory Lending," "Combating Predatory Lending in California," and has spoken in many forums on consumer fraud. He serves on court-appointed leadership roles in class actions throughout the United States.
Niall also has practiced extensively in the area of elder abuse, including obtaining multi-million dollar recoveries on behalf of senior citizens in actions involving reverse mortgages. He has been retained by Public Guardian offices to prosecute financial elder abuse cases. In addition, he has handled many notable cases against nursing homes, including well-publicized actions for the families of three victims who died at a San Mateo County nursing home during a heat wave, an action on behalf of a developmentally disabled person who was severely burned while left unattended in a nursing home shower, and a residential care poisoning death case which received national attention. He obtained a punitive damage jury verdict after trying an elder abuse case against a nursing home with limited witnesses. He also won a unanimous jury verdict in a hotly contested financial elder abuse trial involving the misuse of a senior citizen's life savings.
He authored "The Elder Abuse Statute: California's Underutilized Law," "Elder Abuse: Recent Legal and Legislative Developments," "Financial Elder Abuse in Real Estate Transactions Under the 2000 Revisions to the Elder Abuse Act" and "Elder Abuse Claims Not Subject to MICRA." He is a frequent speaker on financial and physical elder abuse and has been featured in California Lawyer with respect to his work for seniors.
Niall has handled catastrophic personal injury matters, including the high profile trial of a balcony collapse in San Francisco. He also handled the Millennium Towers Litigation related to a San Francisco luxury condominium development which made international news, and represented California dairy farmers in litigation in California's "milk wars" over the milk quota system.
Niall's other notable cases include compelling an insurance company to pay for a lifesaving bone marrow transplant for a cancer patient, and obtaining a punitive damage jury verdict in another case which unveiled a multi-state health insurance fraud. Niall obtained a defense award on a multi-million dollar fraud claim against his clients, and obtained a million-dollar recovery for the same clients on a cross-complaint in a year-long arbitration arising out of a failed healthcare industry merger. He served as lead class counsel obtaining a $15 million dollar verdict against Old Republic Title Co. after a trial in San Francisco Superior Court. He also obtained a substantial verdict against the federal government in a high profile FTCA case after a trial in federal court. Niall won a multi-million jury verdict for a MLB pitcher whose career was prematurely ended. Niall has tried a variety of cases in state and federal court, including class actions and mass torts.
Niall has received many legal service awards, including the Edward I. Pollack Award for outstanding effectiveness for the plaintiff's bar, Marvin Lewis Award for the Consumer Attorneys of California for guidance, loyalty and dedication, the William Nagle, Jr. Memorial Award from the San Mateo County Bar Association for innovations in the law and for professionalism, the Community Service Award from Santa Clara University School of Law for his work on behalf of consumers, the Bar Association of San Francisco's Award of Merit, the Access to Justice Award from the Lawyer's Club of San Francisco, the California Supreme Court Chief Justice's Award for Exemplary Service and Leadership, the Stanley Mosk Defender of Justice Award, and the State Bar of California Presidential Award for Access to Justice. In 2023, Niall was awarded the Lifetime Legal Achievement Award by Consumer Watchdog.
McCarthy was selected by Governor Newsom, then Senator Harris and Senator Padilla to serve on judicial nominee evaluation committees, and currently serves on those federal and state committees for courts.
Niall is a past president of the Consumer Attorneys of California and the San Mateo County Trial Lawyers. Niall is a three-time finalist for the Consumer Attorneys of California Attorney of the Year Award. He has been elected to the Irish 100--the top 100 Irish lawyers in the United States and Litigation Counsel of America. He co-chaired the Open Courts Coalition, a diverse group of attorneys from all practice areas in California whose goal is to restore court funding. Niall has been an MCLE panelist on many topics including courtroom conduct, complex litigation, financial fraud, financial and physical elder abuse, the fundamentals of business litigation, Business and Professions Code 17200, predatory lending, qui tam actions, discovery for trial, witness examinations, trial of class actions, Trial Tactics, the Consumer Legal Remedies Act, Settlement Techniques, Legal Ethics, Civility and taking effective depositions. He also is active in various community activities, including having served as chairman of the Board of Directors of Community Gatepath (now AbilityPath), a nonprofit organization which benefits children and adults with disabilities. Niall received ABC 7/KGO TV's "Profiles of Excellence" Award for his work on behalf of Community Gatepath.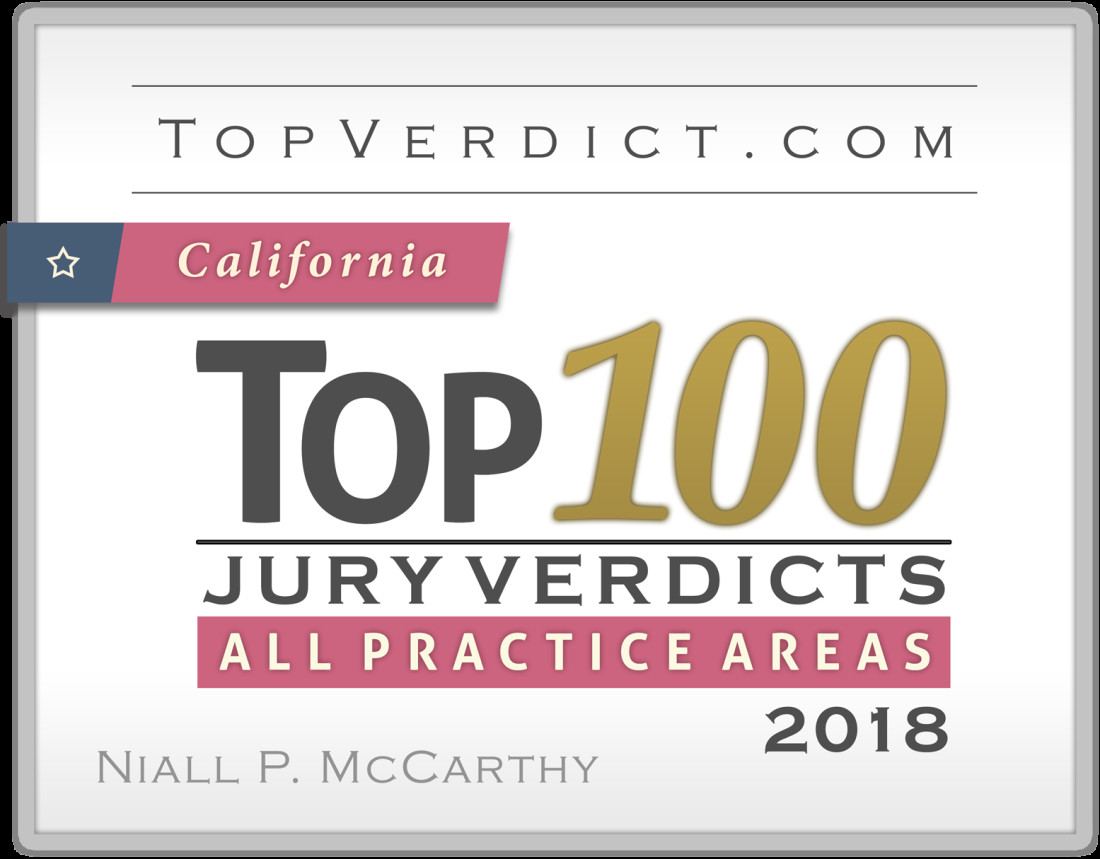 Honors & Awards
Honors & Recognitions
Received multiple California Lawyer Magazine Attorney of the Year (CLAY) Awards
Selected repeatedly as one of the Top 100 Lawyers in California by the Daily Journal
Top 100 Northern California Super Lawyers List
San Mateo County Trial Lawyer of the Year
2023 Legal Lifetime Achievement Award - Consumer Watchdog
Defender of Justice Award
Presented The California Supreme Court Chief Justice's Award for Exemplary Service and Leadership
Has the highest possible rating, AV, from Martindale-Hubbell
Presented the William Nagle, Jr. Memorial Award by the San Mateo County Bar Association for innovations in the law and for professionalism
Received the Community Service Award from Santa Clara University School of Law for his work on behalf of consumers
Received ABC 7/KGO TV's "Profiles of Excellence" Award
Affiliations
Affiliations
American Board of Trial Advocates, SF Chapter President (2022)
International Academy of Trial Lawyers
International Society of Barristers
American College of Trial Lawyers
Consumer Attorneys of California, President (2012)
Co-Chair, Open Courts Coalition
Past Chairman of the Board of Directors of Community Gatepath
San Mateo County Trial Lawyers
Practice Areas
Education
Santa Clara University School of Law, J.D. (1992)
University of California at Davis, B.A. (1989)
Admissions
California
United States Supreme Court
All Federal Courts in California
Ninth Circuit Court of Appeals
Seventh Circuit Court of Appeals