Cotchett, Pitre & McCarthy Ranked One of the Top Securities Law Firms Nationwide by Institutional Shareholder Services
News
02.28.2023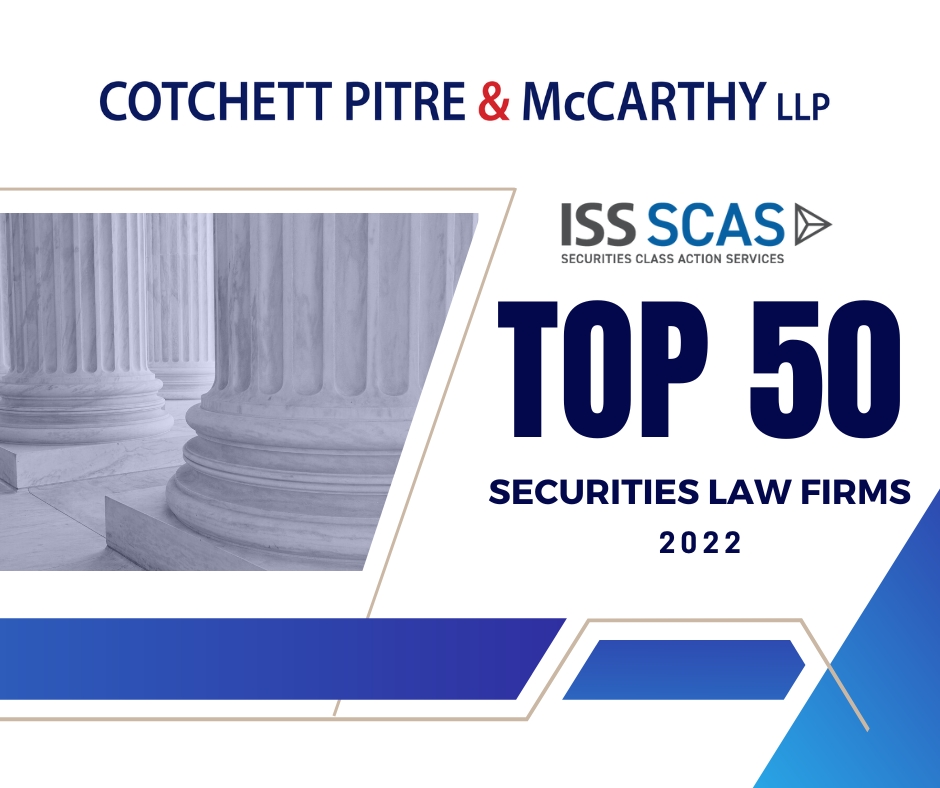 On February 28, 2023, Institutional Shareholder Services SCAS released its annual SCAS "Top 50" report, ranking the nation's top securities class action law firms based on their recoveries for investors during 2022.
For the third time in the past five years, CPM was ranked amongst the nation's elite securities firms by ISS, which highlighted CPM's $19.25 million recovery for shareholders in 2022. ISS had previously ranked CPM in the Top 10 of all securities firms nationwide in 2018 and 2019.
"The ISS report is an important measuring stick in the securities field, and again demonstrates the firm's expertise in complex shareholder litigation," said Mark Molumphy, a partner at CPM and head of the firm's securities and privacy teams. "The results reflect our clients' commitment to justice as well as the hard work put in by our staff and trial teams," added Tyson Redenbarger, a partner at CPM. Karin Swope, the head of CPM's Seattle office and a nationally-recognized expert in data privacy and e-discovery, noted that "CPM's consistently high rankings reflect the firm's commitment to taking on cases of national import and achieving unparalleled results for our clients."
Indeed, the ISS report and recognition come on the heels of a historic run by CPM's securities and privacy teams, including several recent recoveries now subject to court approval:
A $310 million settlement against Apple, Inc. on behalf of a nationwide class of Apple device users alleging the tech giant secretly throttled their iPhone devices through a software update;
A $117 million settlement against PG&E's former officers and directors on behalf of the Fire Victims Trust, which alleged the executives failed to oversee the utility prior to the California wildfires;
A $107 million settlement against Micro Focus and others on behalf of shareholders following its merger with HPE's software business; and
An $85 million settlement against Zoom Video Communications, Inc. on behalf of a nationwide class of Zoom users alleging that the communications platform misrepresented the encryption of their meetings.
About Cotchett, Pitre & McCarthy
CPM is one of the world's leading complex litigation firms, and its securities and privacy teams represent plaintiffs in securities fraud, shareholder derivative, consumer fraud and privacy cases. The firm's attorneys have obtained many of the largest securities, derivative, and consumer class action recoveries in history.