International Involvement
Through the International Academy of Trial Lawyers, International Relations Committee, Cotchett, Pitre & McCarthy, LLP regularly hosts delegates from across the world.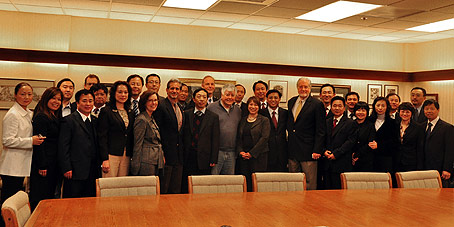 In 2012, Cotchett, Pitre & McCarthy met with a legal delegation from the People's Republic of China led by Kang Yu, Deputy Director-General of the Department of Judicial Assistance and Foreign Affairs. Kang Yu has visited Cotchett, Pitre & McCarthy on many prior occasions over the last ten years, both as part of delegations and individually, and CPM attorneys have met with Kang Yu in China.
The delegation led by Kang Yu was comprised of representatives of Ministries of Justice and Bureaus of Justice from many regions and provinces of China, including Beijing, Shanghai, Xian, Hunan, Shenzhen, and Liaoning and participated in meetings throughout the United States with representatives of the United States Department of Justice, state and federal courts, and prison facilities. The purpose of the delegation was to develop greater friendship and dialogue between China and the United States and to share views on the rule of law.
CPM hosted the final stop of the delegation's visit. During their visit to CPM, an extended discussion was had about the rule of law and access to justice. The group discussed the importance of keeping the justice system fair and available to all individuals and parties and future dates were discussed for meeting with the firm in China later this year.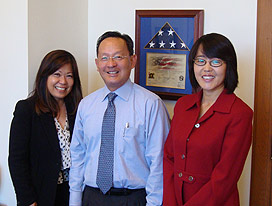 The firm recently hosted a prominent government official from China. Jing Wang, a legal scholar from Beijing, teaches civil law to provincial governors from throughout China at the Community Party School. She was among numerous lawyers and judges who were dispatched across the country as part of the International Academy of Trial Lawyers rule of law delegation. In addition to participating in firm and community events, Professor Wang visited with former partner U.S. District Court Judge Susan Illston and State Supreme Court Justice Ming Chin. She stayed at the home of Diane and Frank Pitre while in California.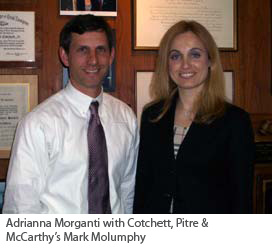 Adrianna Morganti, a member of the Rome-based law firm of Guttieres & Remeddi, immersed herself in the U.S. legal system and American culture during a two-week visit to San Mateo and San Francisco Counties as a guest of Cotchett, Pitre & McCarthy. Ms. Morganti was one of eight Italian lawyers who participated in the IATL Cultural Exchange Program to learn from experienced American attorneys, witness trials and study the legal system. Specializing in international family law, Ms. Morganti said the exchange program is a special educational experience that helps build ties between Italian attorneys and their American peers. Ms. Morganti, who is fluent in Italian, French and English, is a graduate of the University of Studies of Rome (La Sapienza) where her thesis was "Constitutional Problems of Decency Protection." She successfully passed the written and oral Rome bar examinations, and continued her studies in Great Britain and France. She is a member of the Rome Bar Association.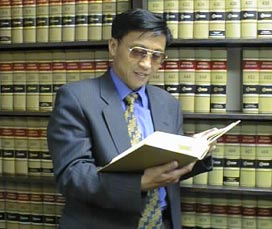 Kang Yu, director of the Division of Foreign Affairs, Ministry of Justice, Peoples Republic of China, spent two weeks in San Mateo and San Francisco Counties studying the American judicial system, meeting with lawyers, academics, judges and others. Kang said during his visit that he was looking for parts of American law that may be beneficial to China, including those protecting the rights of individuals. China, he said, wants to study the U.S. practice of the legal principle rule of law and make China a country ruled by law. Kang attended several trials in San Mateo County Superior Court in Redwood City, saying he was especially interested in the jury selection process and how the jury fulfilled its judicial role. Kang received his LLM degree in International Law from the University of Nottingham, United Kingdom, after going to Harbin University in China. He has authored several publications on comparative law and reports directly to the Chief Justice of the Supreme Court of the Peoples Republic of China.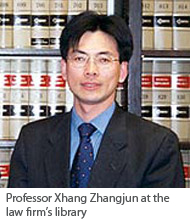 Professor Zhang Zhangjun's visit to Cotchett, Pitre & McCarthy was designed to focus on the American judicial system in general and on corporation, securities and banking law in particular. Zhang, who selected the name Kings Zhang as his western name, is the author of more than 50 articles concerning corporation, banking and securities law, including his doctoral dissertation On Financial Regulation and Supervision Law, published by Law Publishing House, 1998. Since 1999, Zhang has served as a professor at the prestigious Central Party School of the Peoples Republic of China. He obtained his doctoral degree at the Law School of Renmin University of China in 1997 and spent the next two years in postdoctoral work in economics at Renmin University of China.
Cotchett, Pitre & McCarthy was part of a delegation of the Academy to visit Beijing, China. The visit included meetings with senior officials from the Department of Justice and veteran education dignitaries. The goal of the Academy is to cultivate the science of jurisprudence, promote reforms in the law, promote the Rule of Law internationally, and elevate the standards of integrity, honor and courtesy in the legal profession.