Protecting Our Seniors (and Taxpayers) – U.S. Department of Justice (DOJ) Indicts Operators of 70 Facility Nursing Home Chain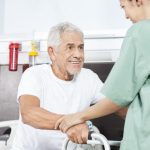 Fraud in nursing homes is rampant and takes every imaginable form – from the small scale (a staff member who take narcotics from elders to sell on the street) – to the massive (systematic defrauding of the government). With billions of government dollars flowing through our Nation's nursing homes it is a hot bed for criminal activity. Fortunately, whistleblowers and government investigators are able to work together to return funds to the government when there has been fraud or false claims for reimbursement by nursing homes.
As an example, this week the U.S. DOJ charged the CEO and COO of a major nursing home chain (American Senior Communities) for a fraud and kickback scheme that cost the Federal Government over $16 million dollars. The thirty-two count indictment charges James Burkhart, Daniel Benson, and Steven Ganote with conspiracy to violate the federal Anti-Kickback Statute as well as conspiracy to commit mail, wire and health care fraud.
The way this particular scheme worked was that the nursing home found contractors – for a variety of facility needs – everything from pharmacy services to landscaping – who would mark up there charges to the nursing home (often by 30-50%) and then refund the mark up to a side company run by the owners of the nursing home chain. The indictment alleges that the vendor who provided pharmacy services to the nursing homes paid three of Ganote's shell companies over $5.5 million for so called "marketing services."
The DOJ alleges Burkhart, Benson and Ganote spent millions of dollars of illegal kickbacks on such things as vacation homes, jewelry, and gold bullion. Sadly, it is taxpayers who foot the bill when there is nursing home fraud because the fraudulent costs get passed on to government pay programs such as Medicare and state-run programs.
Our firm, Cotchett, Pitre & McCarthy, LLP represents elders in elder abuse and other types of litigation – we also represent whistleblowers who work in the nursing home industry and notice fraud against the government. Under the False Claims Act, whistleblowers who step forward to blow the whistle on government fraud are entitled to a significant share of the money that is recovered for the government. If you are in the nursing home industry and think you may know about a fraudulent practice or false billing for services to the government (whether to Medicare or a state-run program such as Medi-Cal), contact us for a confidential case evaluation. Anne Marie Murphy, amurphy@cpmlegal.com; (650) 697-6000.