Showing 2 posts from October 2016.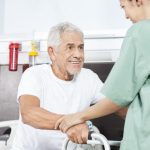 Fraud in nursing homes is rampant and takes every imaginable form – from the small scale (a staff member who take narcotics from elders to sell on the street) – to the massive (systematic defrauding of the government). With billions of government dollars flowing through our Nation's nursing homes it is a hot bed for criminal activity. Fortunately, whistleblowers and government investigators are able to work together to return funds to the government when there has been fraud or false claims for reimbursement by nursing homes. Read More ›
Senior advocates, including elder abuse attorneys have long voiced opposition to the continued use of forced arbitration provisions in nursing home contracts. In a rule that becomes effective November 28, 2016, the U.S. Government's Centers for Medicare & Medicaid Services ("CMS") is prohibiting pre-dispute arbitration clauses in nursing home contracts. This move is a critical protection for our Nation's approximately 1.3 million nursing home residents.
Although the rule will not help elders in assisted living or nursing home residents with contracts that pre-date the November 28, 2016 effective date of the rule, the importance of this move by CMC cannot be understated. The full text of the final rule, which is over 700 pages in length can be found here.
Our firm, Cotchett, Pitre & McCarthy, LLP represents elders in elder abuse and other types of litigation. We handle a wide range of cases under California's elder abuse law, including cases involving serious injuries or death – as well as financial fraud.