Victim Blaming is Never Okay – CPM Agrees with Former Irish President on Problematic Coverage of Balcony Collapse Tragedy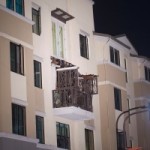 On June 16, the same day as the balcony collapse in Berkeley killed six people and seriously injured at least seven others, the New York Times published a story on the tragedy under the headline "Deaths of Irish Students in Berkeley Balcony Collapse Cast Pall on Program." The "pall" is not on the victims of this tragedy, nor on a program that has allowed thousands of Irish citizens to spend a summer living in the U.S. The "pall" is on whoever is at fault in constructing and maintaining a balcony that should never have collapsed, and on those who would blame a party atmosphere for the tragedy, and who would resort to stereotyping and underhanded victim blaming.
Thankfully, response to the New York Times' implication that the victims were somehow at fault has been vocal. (The Times itself has acknowledged that the story was "insensitive.")
Former Irish President Mary McAleese sent a letter to the Times, stating:
"Today in Ireland we are hanging our heads in shock and sorrow at the needless deaths of six of our brightest and best young adults and the serious injuries to others.
Today the New York Times should be hanging its head in shame at how outrageously and without the remotest evidence it has rushed to judgment on those deaths.
[…]
[W]ithin hours of the most appalling tragedy in the history of the J-1 visa program, when the one salient fact to speak for itself is the ludicrous collapse of a fourth floor balcony in a relatively new building, New York Times journalists reached for the lazy tabloid stereotype and heaped deliberate injustice on top of the most awful grief.
Shame on you."
President McAleese's thoughts were echoed by current Taoiseach, Enda Kenny.
CPM stands behind victims of senseless tragedies like this one. No amount of stereotyping of drinking or partying, or reports of "noise violations" by those injured or killed in this tragedy is relevant. As President McAleese said – the one salient fact is the ludicrous collapse of the balcony, nothing more. President McAleese is correct, and the media's focus should be on remembering the victims and determining the cause of the collapse, not judging those who died through no fault of their own. Shame indeed.