Joe Cotchett Honored as "Titan of the Plaintiffs Bar"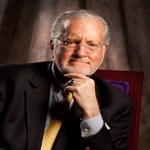 Citing a half-century of trial experience spanning the gamut of the law—from civil rights to antitrust, securities fraud to the representation of outed CIA spy Valerie Plame—Law360 selected CPM founding partner Joseph Cotchett as a "Titan of the Plaintiffs Bar" in September.
The influential national legal publication tracked Cotchett's inspiration to the clash of his Brooklyn values with those of a segregated North Carolina, where he moved to attend college at age 16. Recounting a lecture he received from a local constable after he "had the audacity to drink out of a colored [water] fountain," Cotchett told Law360 that the experience "led me to be who I am today." That present iteration, Cotchett's peers (and sometime courthouse opponents) explained, is a "natural orator" with a "mastery of trying a case in open court" and "the rare ability to take a commanding knowledge of law and blend it with an irrepressible, folksy flair that is impossible to ignore and difficult to defeat."
While Law360 reporter Ed Beeson noted Cotchett's definitive, multi-billion-dollar win in the Lincoln Savings & Loan Association investor class action of the 1980s, the outlet also mentioned more recent triumphs, such as Cotchett's involvement in the Martin's Beach coastal development case, in which a San Mateo County Superior Court judge sided in September with CPM client Surfrider and ordered a Silicon Valley billionaire to reopen access to the pristine beach.
This honor is the latest in an illustrious career: Cotchett has been inducted into the national Trial Lawyer Hall of Fame as well as the State Bar of California's Trial Lawyer Hall of Fame, has received the Distinguished Service Award from the Judicial Council of California and the Lifetime Achievement Award from Consumer Watchdog, and has been named Trial Lawyer of the Year by Public Justice and Antitrust Lawyer of the Year by the Golden State Antitrust Institute, among other awards. He has been named one of the 100 most influential attorneys in the United States for 15 years running, and was honored by Super Lawyers as the top attorney in Northern California in 2013.