Education
Santa Clara University School of Law, J.D.
Honors Moot Court Internal Competition

Best Oralist Semi-Final Round
Best Overall Team
Runner-Up Best Overall Brief

Journal of International Law
Honors Moot Court Internal Board
Women and Law: Benefit Chair
Research Assistant to Dean of Santa Clara Law: Lisa Kloppenberg
CALI Excellence for the Future Award
Simon Fraser University, B.A.
Communications major, Sociology minor
First Class Honors
Dean's Honor Roll
Clerkships
Judicial Extern for the Honorable Justice Nathan Mihara of the Sixth District Court of Appeal, California
Tamarah Prevost is a Senior Associate at Cotchett, Pitre & McCarthy, LLP, practicing in a wide range of civil litigation areas including employment law, antitrust litigation, and consumer rights.
Ms. Prevost has represented employees in wide variety of employment disputes in state and federal court as well as arbitration proceedings. Her cases have included those involving stock options and start-up companies, whistleblowers, and victims of discrimination and sexual harassment. Ms. Prevost also represents plaintiffs in the following antitrust class actions in which CPM serves as interim lead or co-lead counsel:
In re Broiler Chicken Antitrust Litigation, No. 1:16-cv-08637 (N.D. Ill.)
In re Lithium Ion Batteries Antitrust Litigation, No. 13-MD-02420 YGR (N.D. Cal)
In re Capacitors Antitrust Litigation, No. 3:14-cv-03264-JD (N.D. Cal.)
In re Resistors Antitrust Litigation, No. 5:15-cv-03820-RMW (N.D. Cal.)
Ms. Prevost has been a panelist speaker at the CAOC (Consumer Attorneys of California) Annual Conventions in San Francisco and Sonoma, and is a member of the Bar Association of San Francisco and the San Mateo County Bar Association. Ms. Prevost received her J.D. from Santa Clara University School of Law where Ms. Prevost was named the Best Oral Advocate in the Semi Final Round of Santa Clara Law's Honors Moot Court Competition and was published in the Santa Clara Journal of International Law. Prior to law school, Ms. Prevost lived in Vancouver, British Columbia, obtained her Bachelor of Arts degree with First Class Honors from Simon Fraser University.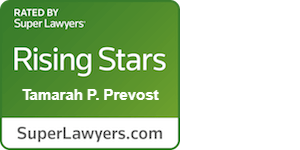 Community/Civic Activities
Ms. Prevost is Secretary on the Board of Directors for CORA (Communities Overcoming Relationship Abuse), San Mateo County's only provider of comprehensive intimate partner abuse prevention services. She is also a member of the Board of Directors for the Digital Moose Lounge, a non-profit organization that serves as the first point of contact for Canadians new to the Bay Area. Ms. Prevost regularly volunteers at her law school's moot court competitions.
Publications
May 9, 2019

Daily Journal

February 8, 2019

Daily Journal